The 11th Ahimsa Day was celebrated by the Institute at its regular venue, the House of Commons, London Committee Room No 10 on 9th October 2013.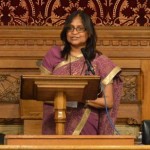 The compére for the evening,  Jyotsna Samji gave a warm welcome to everyone after introducing herself.  She invited Pujya Samnijis to recite the auspicious Navkar mantra to start off the evening – it was pleasing to see the Samnijis return to the House after an absence of two years.
There was a special division in the House so most of the MPs including our hosts were missing. However, one of the co-hosts Mr Barry Gardiner MP just happened to walk in at the right time and was invited to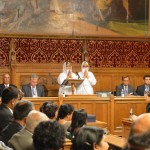 welcome the audience even before he was able to get his breath back!! He is the Chairman of the Labour Parliamentary Friends of India.
Mr Barry Gardiner MP expressed pleasure at being with the Jains once again. After welcoming  the guests, he assured the Institute of his continued support for its activities in the House.
Two other MPs, Mr Tim Yeo MP & Mr Virendra Sharma MP both also welcomed the guests to the event and expressed their pleasure at being able to promote such activities.   Response received from 10 Downing Street to Institute's invitation to the Ahimsa Day is attached.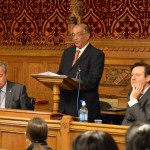 Nemu Chandara, OBE, Chairman Institute of Jainology  then welcomed the guests on behalf of the Institute to the 11th Ahimsa Day Celebration. He started his talk by expressing sorrow for the recent event in Nairobi where many of the community members had originated from.  He highlighted the need for considering Ahimsa as an alternative to the many challenges we see around us. He spoke about the Institute's continued efforts in this direction with objective to build a global conscience and a political will. He referred to the example of Scott Neeson, Ahimsa Award winner of 2012 how one man can be driven to dedicate his life to betterment of those less well off in the society.
He also took the opportunity to thank the three co-hosts who are the Chairmen of the Parliamentary Friends of India for their respective parties for their continuous support
Full text of Nemu Chandaria's speech can be accessed by clicking here.
Next to address the audience was the keynote speaker for the evening Mr Gavin Grant, Chief Executive Officer, R S P C A.
The title of Gavin's speech is 'Ahimsa: Conscious Compassion and the Compassionate Consumer'.  He started with explaining the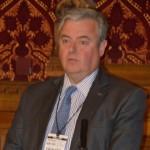 history and background of RSPCA stating how its origins are faith based and its relationship with faiths is inextricably tied.  He said that compassion for animals is anchored in faiths universally and that RSPCA's foundation reflects this diversity.
He realised the power of compassionate consumerism when he worked for The Body Shop and how this was able to bring about a decision to stop use of  animal testing in cosmetic production in Europe.
Gavin Grant's address was driven by the compassion flowing from his heart and it was clearly felt  by  the audience. Notes on his speech can be seen by clicking here.
Kumar Mehta, Institute's IT Director then announced the name of the winner of Ahimsa Award 2013 as Dr Melanie Joy, Professor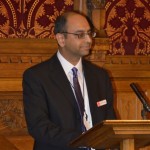 of  Psychology and Sociology at the University of Massachusetts, Boston. He referred to the new term 'Carnism' coined by Melanie and then went on to describe how Melanie has been motivated to fight for the animal protection, welfare and rights. Text for the full citation can be viewed by clicking here.
Melanie in accepting the award thanked the Institute for bestowing such a great honour on her and that honour was shared by tireless animal advocates and activists, the unsung heroes, whose courage and commitment to speak the truth in the face of overwhelming social denial to demand compassion and justice for all beings.  She also shared the honour with her team at Carnism Awareness and Action Network all of whom provide voluntary services.  She also remembered to share the honour with  all the pigs and chickens and cows and fish and sheep and rabbits and ducks and everyone else who has been or will be an invisible victim of agricultural violence.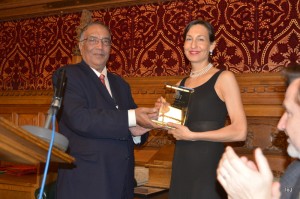 She also explained how she was trained to be a psychological acrobat, "walking the tightrope between denial and truth, juggling facts and fictions in an elaborate – and deadly – act I didn't even know I was performing."
She talked about her childhood pet dog, Fritz  – and the bond she developed with Fritz. Her relationship with Fritz had moulded her character and how she learnt to be a compassionate witness.
She had difficulty reconciling how on one hand she would lovingly pat an animal and eat another animal with the other. She became a vegetarian after suffering food poisoning. This also proved to be a turning point in her life – as she dedicated most of her time to animal welfare and making people understand they had a choice.
She requested observing a minute's silence for the animals that were being slaughtered – 124,000 of them that very minute.
She went on to give several statistics of the cruelty exercised on animals and how she arrived at the term Carnism after doing a doctorate on the subject.   Text of her full speech can be viewed by clicking here.
Mr Sudhir Lodha Indian State Minorities Member of Government of Tamil Nadu had travelled specially from India to attend the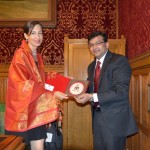 event because of his general interest in Jain diaspora. He had also brought with him shawls and small plaques of Bhagwan Mahavir to present to our guests. He presented  a set each to Dr Melanie  Joy, Mr Gavin Grant and Mr Barry Gardiner MP.
Mr Lodha then addressed  the audience. Having heard the earlier speakers, he decided to deviate from his prepared address which can be viewed by clicking here.
The vote of thanks by the Institute's Honorary Secretary, Kanti Shah brought the evening to a close.
There was much mingling and discussions with both speakers who proved to be extremely popular with a never ending series of
questions.
At the end of the evening, the Directors felt satisfied that their choice for this year's Ahimsa Award was very appropriate.

IoJ Directors & Guests