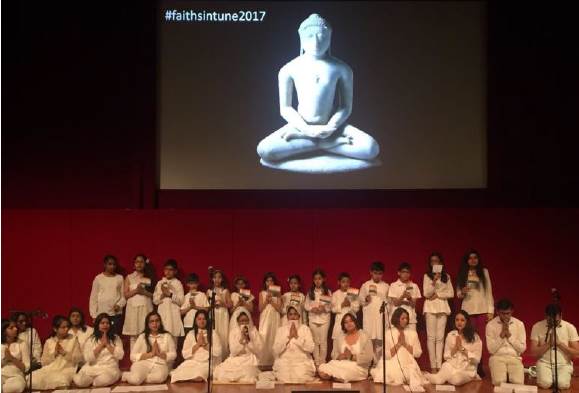 Jain Vishva Bharati represented of ONE JAINS UK for the 6th London Interfaith Music Festival on Sunday 21 May 2017 Jain Vishva Bharati London led by Samani Pratibha Pragya ji and Samani Unnata Pragya ji presented Arhat Vanadana at the Faith in Tunes Interfaith Music Festival held at the British Museum on Sunday 21 May 2017.
JVB was representing ONE JAINS UK which is a unified organisation for all Jain sects within the UK.
Arhat Vandana is a collection of ancient aphorisms from the Aagams (holy Jain scriptures) compiled by Acarya Tulsi. In this composition, the profound words of wisdom propounded by Lord Mahaveer, the last Tirthankar (Fordmaker) of the Jains, first pay homage to all the saints and spiritual leaders. It then advises not to believe in any dogma or philosophy blindly, but for every individual to search truth for themselves. What everyone will then realise is that just as earth is the substratum for all entities, peace is the bedrock for all life forms. One can subsequently infer that just as we all seek peace and happiness and aim to relinquish pain and sorrow, it is equally applicable to all other living beings. The couplets further advise why wage war externally, when the real war needs to waged internally on our negativities. One will eventually realise the Eternal Truth that Equanimity in all Situations in the real essence of Spirituality.
This wonderful message was sung by about JVB devotees including JVB Gyanshala (religious school for children) children and teachers, all clad in pristine white attire symbolising purity. They glorified Lord Mahaveer's message of nonviolence and peace.