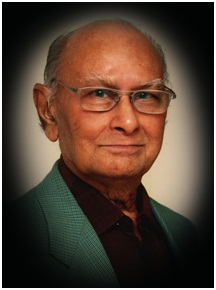 24th October, 1922 [Vijya Dashmi] – 13th October, 2013 [Vijya Dashmi]
Shri Ratilal Premchand Chandaria, fondly known as Ratikaka, passed away peacefully on the auspicious day of Vijaya Dashmi, 13th October, 2013. It is very rare indeed that ones birth and death anniversaries both fall on the same date (teethi) as per the Indian calendar. Vijaya Dashmi is celebrated on the tenth day of NAVARAATRI and marks the victory of the goddess Durga over the demon Mahishasur. It is also the day on which Lord Ram was victorious over the demon Ravana.  Perhaps these coincidences are symbolic of the many obstacles that Ratikaka had to overcome in order to achieve his aspirations.
Pujya Kaka was born on 24th October, 1922 to father Premchandbhai and mother Punjibai. His student life started in Nairobi and moved to Mombasa for a while. In his youth he was active in sports, yoga, and participated in the Jain Youth League in Nairobi.  With the onset of World War II, he accompanied his parents to India and rather than continue with his education, he decided to join the family business.
 As a young businessman, he extended the family business into industry and with his foresight started import and export business as well.  He developed his ventures to expand and extend the activities to many locations.  He was married to Shri Vijayalakshmiben in 1943 in Jamnagar, India, and are survived by one daughter, three sons, eight grand-children and four great grand children.  He leaves behind a large extended family.
 Pujya Kaka moved back to Nairobi in 1946 and was very active in the family business.   To develop and expand the family business in other countries, he travelled extensively to East and Central African countries, Japan, Australia, Far East, Europe, and the Americas.  Ratikaka moved to Dar-es-Salaam in 1960.  To spearhead the family's growth internationally, he moved to London in 1965.  Making London his centre, he investigated business possibilities in Europe, Canada, America and the South-East Asia.  In 1975 he moved to Singapore after a short stay in Geneva.  Ratikaka, a strong proponent of the joint family system, proved himself as an able and skilled businessman.
In addition to his business activities, he was also engrossed in socio-religious activities such as Mahatma Gandhi Award, Bharatiya Vidya Bhavan, Indian Gymkhana, Jain Centres, Jain Fellowship Centre and others.  He was always eager to enhance the cause of society in multiple ways, using his intellect, time and influence.
In 1985, he was instrumental in establishing the Institute of Jainology as a UK Charity jointly with Shri Nirmal ji Sethia.  He became the Chairman of this organisation and remained so until his voluntary retirement as Director in April, 2012.  He was active in both the UK organisation as well as its sister organisation in Ahmedabad, India.
 In consideration of his services for over 25 years, the Board of Directors appointed him as Chairman Emeritus for life.  In addition to his services in cash, kind and valuable time to the Institute, he was also actively involved in the following organisations:
Employment Working Party of Co-ordinating Committee for the migrant from
Uganada ~ in 1972
Executive Committee Member of Bharatiya Vidya Bhavan ~ in 1972
He served as Chairman and Secretary of the Fund Raising Committee until 1975
when he retired
Served twice as President & Chairman of Oshwal Association of the
United Kingdom ~ 1973 onwards
Trustee of the SANGAM Association of Asian Women in 1980
Trustee of Indian Gymkhana in 1982 and Chairman in 1985
Member of the Indian Celebrations Committee in 1991
Founder Chairman of Association of Asians in the United Kingdom
Founder of International Forum of Overeas Indians
Founder and Trustee of Indian Sports and Physical Foundation
Trustee of the International Sacred Literature Trust
Trustee of the Oshwal Yatrik Griha in Palitana
Trustee of the Halari Visa Oshwal Derasar Trust in Jamnagar, India.
If there is one thing for which the world will remember Ratikaka, it is his love for his mother tongue, Gujarati.  He participated in many Gujarati language activities and organisations encouraging them to try their best in keeping the language alive.  He spent 18 years of his life developing a Gujarati Dictionary. With the development of the digital world, he sought help to convert his Dictionary into Gujarati Lexicon with sophisticated functions like choice of language, proverbs, thesaurus, games, puzzles and much more.  www.gujaratilexicon.org is very much alive and is used by millions of people all over the world.
The literary world of Gujarati language have given Ratikaka so many awards that it is not practical to list them all.  Suffice to say that there are not any scholars of Gujarati, known to us, who have not touched base with Pujya Kaka.
The departure of Ratikaka from this world is a loss, not just to the Chandaria family and their business empire;  it is a greater loss to the community at large.  To the Institute of Jainology, it is a loss which cannot be replaced at any time.  May his divine soul rest in peace.
Aum Shanti! Shanti!! Shanti!!!
 Directors & Trustees of the Institute of Jainology  UK & India