Institute of Jainology Director has been recognised for services to the Jain Faith and Education.
London, 1 January 2018: The Institute of Jainology is pleased to announce its Director and Trustee, Dr Mehool Sanghrajka, has been awarded an MBE in the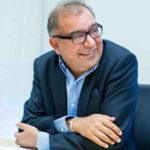 2018 New Year honours for services to the Jain Faith and Education.
For over 20 years Sanghrajka has played an important role in the Jain community and has substantially raised the profile of Jainism and improved interfaith relations throughout the UK and globally.  Sanghrajka's hard work and dedication has been recognised and an MBE awarded for outstanding achievement from Her Majesty the Queen.
Upon receiving the invitation to receive such a prestigious award, Sanghrajka stated:
"I am humbled. It's a real honour to receive this MBE. Education and Jainism are both very important parts of my life. This inspires me to do even more and I am grateful to all those who work with me in these endeavours." 
For the past 15 years Sanghrajka has been the Director and Trustee of the Institute of Jainology (IoJ) which represents the 32 Jain organisations in the UK in Inter-faith and governmental activities. The IoJ has helped to establish the Jain all-party Parliamentary Group and focuses on matters affecting the larger Jain community as a whole such as inclusion in the census and representation at Armistice Day. He is also a current trustee of the Navnat Vanik Association, the second largest Jain community in the UK.
Nemu Chandaria OBE, Chairman of Institute of Jainology said, "Thanks to Dr. Sanghrajka's tireless work Jains are now a more significant part of the religious landscape of the UK. I wish to wholeheartedly congratulate him for this award."
In addition to his work with the IoJ Sanghrajka is also the Executive Director of Jainpedia.org. The organization has digitised and contextualized the 4,000 Jain manuscripts held at major British Institutions such as the Victoria & Albert Museum, the British Library, the Welcome Trust, the Bodleian Library and the Royal Asiatic Society. The Jainpedia website receives over 1 million page views a year and is the most authoritative website on Jainism globally.
For 20+ years, Sanghrajka has been dedicated to transforming education for students around the globe. He has developed e-learning solutions which improve outcomes for learners worldwide. Sanghrajka's key focus is on meeting the needs of learners in the digital age while enhancing and developing their digital literacy skills no matter where in the world they are located.
Currently Sanghrajka is founder and CEO of Learning Possibilities, the developer of the award-winning LP+ platforms which transforms education for schools across the globe, as well as serving education and government segments globally.
Further Information:
 Meena Jamfava
Email- MeenaJamfava@lpplus.com
Contact number- 074 3850 0936
About the Institute
The Institute of Jainology promotes Jain philosophy and its values of compassion and non-violence towards all living beings through art, culture and education. For more information visit http://www.jainology.org/
 About Learning Possibilities
Learning Possibilities are a Global Alliance and Gold certified Microsoft Partner implementing e- learning solutions with expertise in cloud computing for education and government customers. Our mission at Learning Possibilities is to enhance teaching and learning to help students achieve more. Learning Possibilities' LP+ platform is built on Microsoft technologies and provided to over 1 million users. The company has been contracted to supply the All Wales National learning platform to over 1700 schools, since 2012. LP+365 is their most recent platform built to transform learning and now on the global market. It is a Learning Management System, fully utilizing the power of Office 365, giving schools an education focused, effective learning platform. Learning Possibilities has won the prestigious BETT ICT Education Partnership Award (2010), the National Education Investor Technology Infrastructure Award (2014, 2015) and was named a finalist for Microsoft Global Education Partner. For more information visit www.learningpossibilities.com